SpineMED® Decompression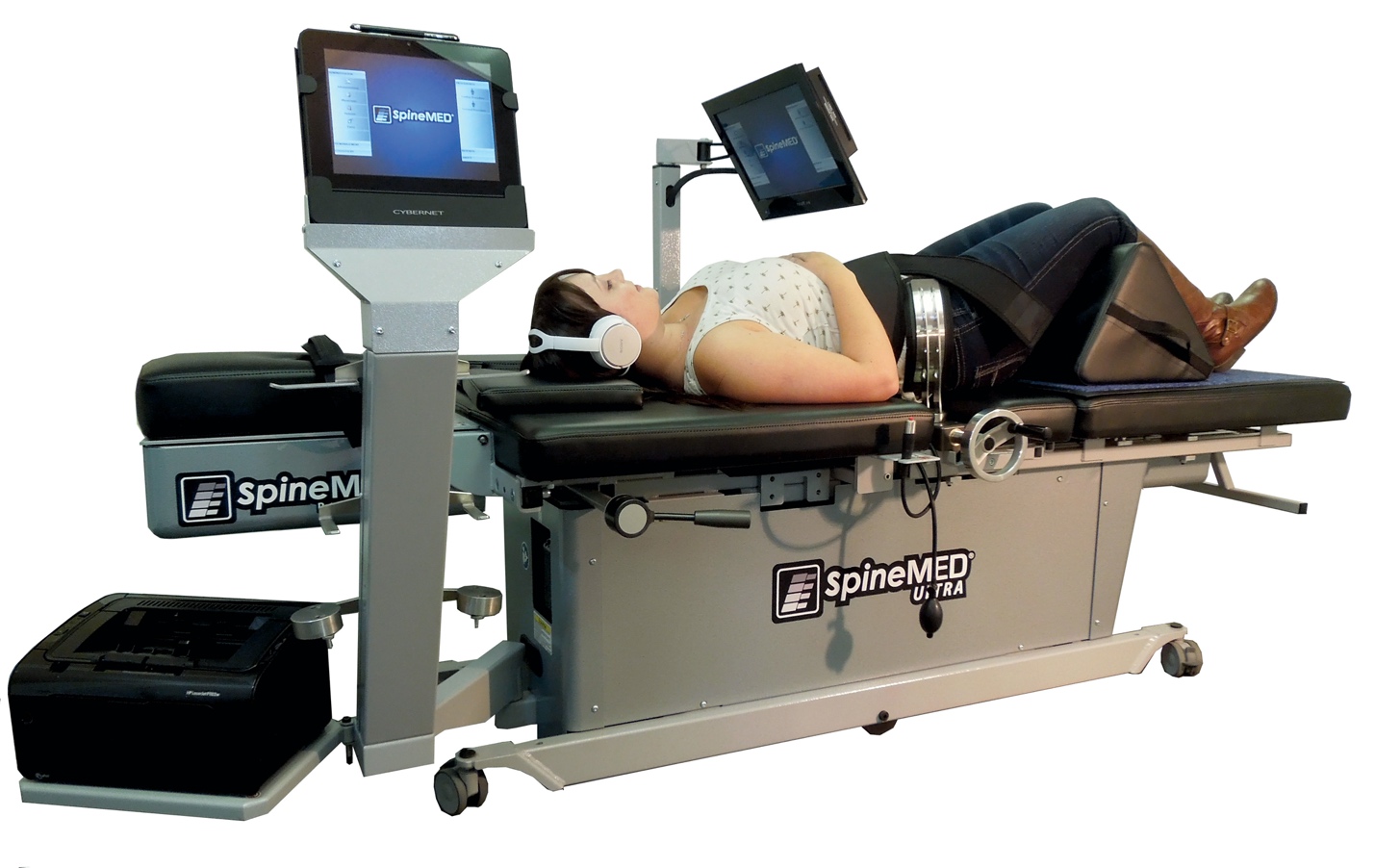 If you're experiencing disc-related pain in your neck, arms, hands, low back, legs or feet and don't want to resort to invasive and risky surgery, we are offering FDA-cleared SpineMED decompression system. This state-of-the-art therapy represents an exciting advancement in the treatment of intervertebral disc disease. Perhaps best of all, it's non-surgical, drug-free and quite comfortable!
Spinal Decompression; unloading due to non-surgical distraction and positioning.
What Is Spinal Disc Decompression Designed To Do?
Damaged intervertebral discs seldom heal as the discs are constantly under pressure during normal activities and even while sleeping. SpineMED is designed to reduce the pressure in the discs through distraction and positioning. The reduction of pressure within the discs is designed to promote the influx of vital fluids, nutrients and oxygen to flow back into the discs. The exchange of nutrients into the disc could assist the body's natural rebuilding process and may speed up the natural repair and may eventually heal damaged spinal discs.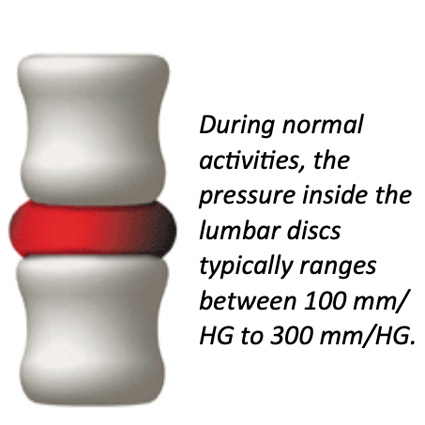 Below is a video for you to become familiar with the SpineMED® spinal disc decompression procedure. Click on the image to begin playing the video clip.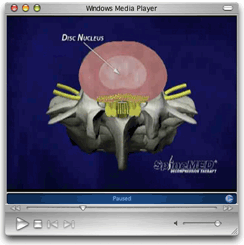 What to expect: The SpineMED® Procedure
All procedures are administered with the patient fully clothed. For lumbar procedures, the patient is comfortably positioned on the table, and the (patent pending) Pelvic Restraints are adjusted to comfortably secure the patient's pelvis. The upper torso is captured by a comfortable securing system incorporated into the fixed section of the table. The Pelvic Tilt section will be electronically tilted, so that specific spinal segments can be targeted. With precise and pain-free computer controlled tension, the specific disc segment is gently distracted.
For cervical procedures, the cervical unit is first electronically tilted to the angle required to target specific segments of the cervical spine. The patient is then placed on the table with their head positioned in the cervical cradle unit. The Cervical Restraints (patent pending) are designed to comfortably capture the base of the patient's skull for controlled distraction. A typical daily session consists of 30 minutes of decompression on the SpineMED® Table followed by 15 minutes of ice therapy. The process is pain-free and safe, and it is not uncommon for patients to fall asleep during the procedure.
The average recommended course of procedure is 20 sessions. Ideally, the sessions are performed daily with rest on the weekend.
Is SpineMED™ Therapy For Me?
Spinal Disc Decompression with the SpineMED® Table has shown to be safe and generally without major side effects or complications once abnormal conditions have been ruled out. Patients with conditions that compromise the integrity of the spinal column, such as gross osteoporosis, spondylolisthesis grade 2 and above, fractures, tumors, or congenital pars defects are not candidates for Spinal Disc Decompression.

Previous spinal surgery is not contraindicated unless hardware (screws, rods, cages, pins, etc.) has been implanted in the spine. Minimum age for SpineMED® procedures is 16 years. Maximum age to be determined by your healthcare practitioner, based on your health and physical condition.
We provide two phases of care at our practice. There's an initial phase of treatment. During the first 30 to 60 days, this is when a majority of the healing takes place. We recommend that patients avoid long periods of sitting and engaging in athletic activity during this time. From his personal experience, Dr. Chiungos recommends that patients continue coming in for a second phase: maintenance to facilitate continued healing over a longer period by continuing to remove disc compression that life activities brings.
How long does each session take?
Typically, the treatments last for 30 minutes.
Can anyone receive this therapy?
No, patients need to be 12 years of age or older. There also are some contraindications. If you had spinal surgery that involved clips, mesh or fusion you can't have this therapy. If you have fractures, tumors or infections you wouldn't be a candidate for decompression.
Those with osteoporosis or spondylolisthesis where there's been a fracture or non-union defect in the spine where that segment that we want to traction is unstable, you can't have decompression.
How many sessions will I need?
It may take 15 to 25 sessions or more to see some relief from your discomfort. That's variable based on the condition, the status of the patient and the condition we're treating.
Do you combine spinal decompression with other therapies?
Yes. HakoMed is often used and may help decrease the symptoms of leg and/or arm symptoms while helping to stimulate nerve metabolism and regeneration.
Call to schedule an appointment (978) 376-8190.
Is spinal decompression painful?
No, not at all. In fact, many patients report that the therapy is very comfortable.
Book an Appointment
Discover how spinal decompression may benefit you. Call (978) 376-8190 today to schedule an appointment!

SpineMED® Decompression Chelmsford MA | (978) 376-8190