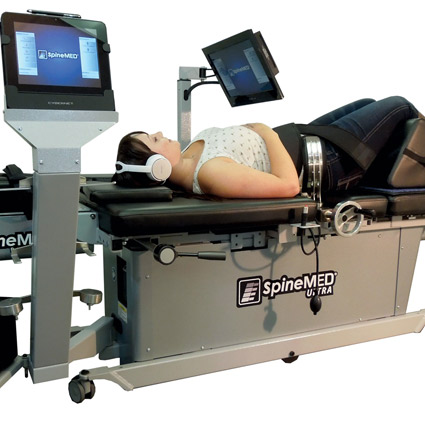 At Dr. Mark Chiungos D.C., our team is constantly looking for ways to improve the health of our patients. We're proud to now offer spinal decompression with the SpineMed system, an advanced solution for the treatment and management of disc problems and back pain.
Wondering if it's right for you? Here are some of the most frequently asked questions we hear about the service.
How does it work?
The SpineMed system works by gently stretching your problem area in a targeted way over the course of a 30-minute session. During this time, your injured discs have a chance to relax and heal. Healing happens over time and as nutrients and water make their way back to the disc.
How many sessions are needed?
While every patient is unique, generally between 15-25 sessions are recommended to see results over four to five weeks. The team will constantly evaluate your progress throughout your treatment plan, and make tweaks as needed.
What type of pain can be helped?
A wide variety of injuries can be helped with spinal decompression, including disc injuries like herniations and slipped or bulging discs. Both chronic and acute pain sufferers have found excellent results in our care.
How can I make an appointment?
Simply give us a call to find out if it can help you and get started today. We can't wait to help you experience the power of gentle spinal decompression in Chelmsford. Book a visit now!