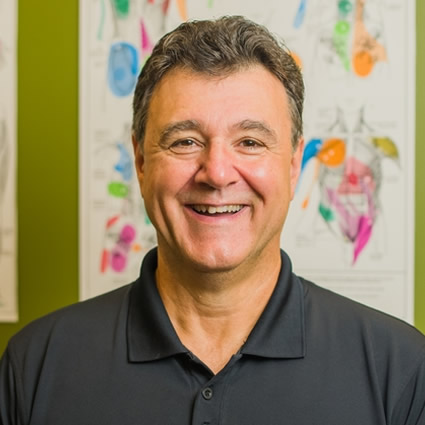 Dr. Mark Chiungos
The Injuries Started Adding Up
At the tender age of 5, Dr. Mark experienced his first serious injury. A slip on newly polished floors left him with a small spinal fracture. From that day forward, Dr. Mark experienced low back pain. Though he went to orthopedists, they considered his problem too trivial to be a surgical case. "Just live with it," was their only answer.
Later, while playing college football, Dr. Mark got a severe neck injury. By coincidence, there was a manual therapist from Sweden in town that he met who adjusted Dr. Mark's neck. After a year of instability, constant headaches and anger over his health, Dr. Mark finally found relief. It was monumental to him but still wasn't enough to make him consider chiropractic a profession.
Deciding on a New Path
Dr. Mark's third major injury was finally the turning point. Working as a general contractor finally put him in the chiropractor's office. The chiropractor adjusted him and would make suggestions to Dr. Mark, such as doing yoga or changing his diet. Dr. Mark took in all this info with such eagerness that one day the chiropractor said, "You're starting to know more about this stuff than I am. Maybe you should become a chiropractor!"
That was finally when it clicked for Dr. Mark. Suddenly, he was on the road in a broken-down pickup truck in a snowstorm, headed for New York Chiropractic College. In addition to having a Doctor of Chiropractic, Dr. Mark has pursued additional training in applied kinesiology, Sacro Occipital Technique® and nutrition.
EXPLORE CHIROPRACTIC

A Passion for Family
Dr. Mark is a health-conscious person. His family eats organic, nourishing foods that will feed their bodies well. He and his son, Sam, are buddies who enjoy mountain biking together. Dr. Mark's teenaged daughter is the light of his life. His wife is the cultural center of the family and encouraged visits to museums and travel. Dr. Mark loves to be with his family, whether going for bike rides or just hanging out at home. In his spare time, he enjoys surfing, swimming, AirSoft and skiing.

Dr. Mark Chiungos | (978) 376-8190