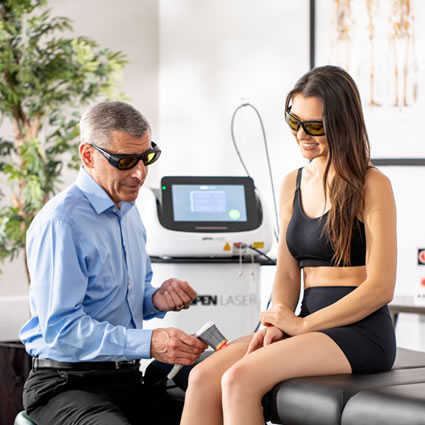 Aspen Laser Therapy
Whether you're recovering from an injury or have been putting up with a chronic condition for years, pain and inflammation can hold you back from all the activities in life you love. "At our practice, we can help you break free from pain and start living the life you were meant to live with the groundbreaking Aspen Apex Laser Therapy. You can get incredible results from this drug-free and surgery-free therapy," said Dr. Chiungos.
Conditions We Address
Aspen Laser Therapy has been shown to be helpful to reduce pain and inflammation and improve circulation. Here are some of the many conditions for which Aspen Laser Therapy has been beneficial:
Pain and stiffness from Arthritis
Back and Neck Pain
Bursitis
Carpal Tunnel Syndrome
Joint Pain
Muscle Spasms
Plantar Fasciitis
Post-Injury Pain
Post Surgical Pain
Sprains and Strains
Tendinitis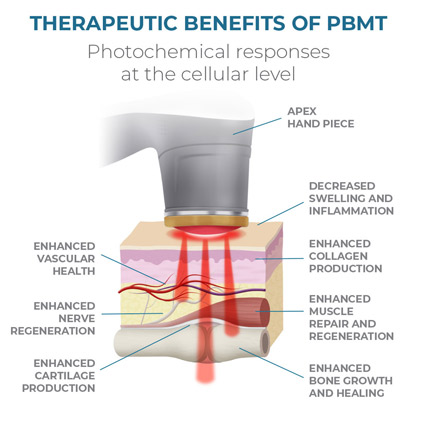 How Does It Work?
Aspen Laser Therapy (also known as photobiomodulation therapy or "PBMT") produces photochemical responses at the cellular level, which increase circulation and cellular energy production while decreasing inflammation and oxidative stress. PBMT also boosts the rate and quality of tissue repair, increases muscle performance, enhances recovery and relieves pain.
What to Expect
Each laser session starts with a recap of current symptoms and any changes to your complaints. Safety googles are provided at each session. We ask patients to bring appropriate wear so that treatment areas are easily accessible. Treatment can involve several related areas to the complaint. Each area is marked with a washable surgical pen for accuracy of treatment coverage. Patients often witness a reduction in injured area as their symptoms improve. Treatment is done initial two days in a row followed by every other day until treatment completed.
Frequently Asked Questions
A handheld wand is positioned directly on or slightly above the skin, over the affected area. A gentle therapeutic beam is delivered.
Depending on the condition, treatment times typically last only 15-20 minutes. Typically, treatments start out longer and time reduces as healing occurs. If you have a larger area on your body that needs treatment, the session may take a little longer.
How many treatments will I need?
Most acute conditions typically require only 10 – 12 treatment sessions. If you have a chronic condition, you may need 12 – 20 treatments and one or two follow-up sessions every month.
Does it hurt to get the laser treatment?
Not at all. Most patients experience a warm, soothing sensation.
When will I start feeling better?
You will likely start to feel better after your first 5 sessions.
Book an Appointment
To learn more about Aspen Laser Therapy or to book an appointment, contact us today to set up your first appointment! Call (978) 376-8190

Apex Laser Therapy Chelmsford MA | (978) 376-8190